born and raised in northern new mexico
Angel Espinoza's Humble Beginnings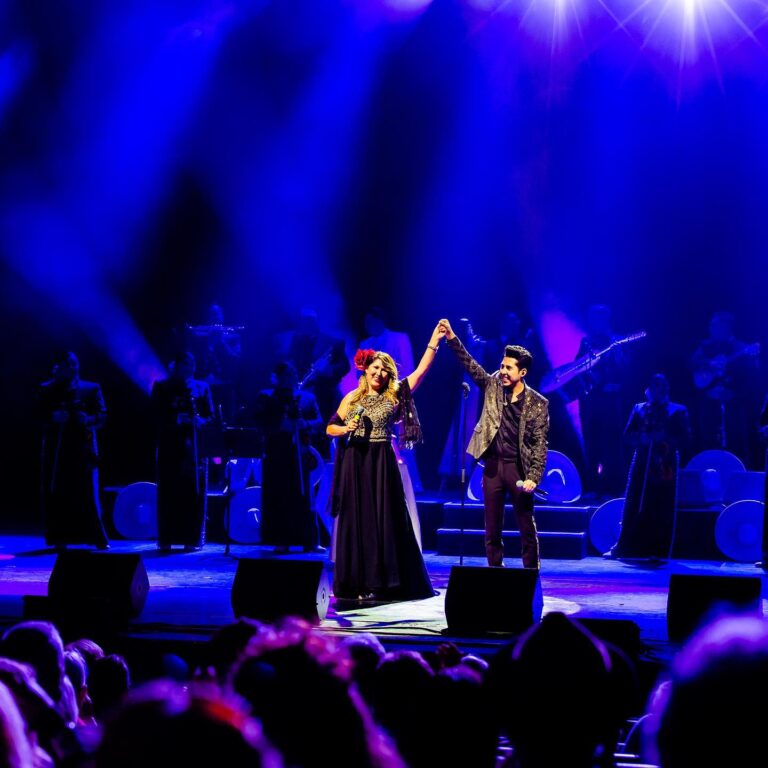 Angel Espinoza singing a duet with her son, Santiago Alberto at the Santa Fe Opera with Mariachi Tesoro de Tucson in the summer of 2019.
Since her early childhood, and humble roots, Angel always dreamt of being a music artist.
Angel Espinoza was born and raised in Espanola, New Mexico and from a young age, dreamt of being a music artist. She grew up in an adobe house and came from humble roots. Her father worked as a custodian at the Los Alamos National Laboratory and her mother was a house wife and stay at home mother raising four children.
Angel enjoyed singing in the church choir, the school choir and at local and school talent shows. Upon graduating from high school, she received a music scholarship and went on to study music in college, attending New Mexico Highlands University and later, the University of New Mexico where she studied music. Her main area of study was voice.
She got her first professional singing job, when she auditioned and was selected to be the lead female vocalist of a popular Latin group called, "Los Copacabana". With this group, Angel began performing  in live shows, touring around the country and making television appearances.
Angel later became a solo artist and had her own musical act performing throughout the county and eventually moved to Las Vegas, NV where she performed in some of the most popular casino stages at the time, singing pop, cover tunes, Latin tunes and variety.
In the early 1990's, Angel returned home to Northern New Mexico and began her singing, songwriting and recording career. She has released several albums and won many music awards for her Latin and bilingual songs. Angel Espinoza and her band Eternidad performed at many events and concerts and were very popular throughout New Mexico and some of the neighboring states where they performed. Angel also performed frequently at many events with mariachi groups.
In 1996 Angel was signed to Joey Records in San Antonio, TX and recorded her award winning CD, "Amor Cuanto Te Quise". In 2007, Angel traveled to Mexico City and Mazatlan to record an album entitled, "Amor, Dolor y Pasion" and recorded 5 songs with Manuel Cazares and 5 songs with BMI award winning songwriter, Jorje Alejandro in San Antonio, TX.
In more recent years, Angel has been a featured guest artist at the annual Jerry Lopez and Friends Concert in Santa Fe, New Mexico and was also featured by her son, Santiago Alberto at his concert at the Santa Fe Opera in the summer of 2019.
In July of 2023, Angel and her son, Santiago Alberto recorded their first duet together, realizing their lifelong dream of recording togehter with a song, entitled, 'Mi Pueblo'. The song was composed by Paul Anka & Juan Gabriel.
Angel Espinoza is most recognized in New Mexico for writing songs about her family traditions, culture and history of growing up in Northern New Mexico, with songs, like My Adobe Casita, When Grandma Was A Girl and El Corrido de Don Juan de Onate.
More about Angel Espinoza 
In 1990, Angel Espinoza met Juan Gabriel for the first time after his concert in Las Vegas, NV at The Mirage. This was the beginning of a lifelong friendship. Angel worked with Juan Gabriel on developing her songwriting skills. At this time, Angel wrote several songs she recorded in the late 1990's for whom she won several music awards. At that time, she also worked with Juan Gabriel on song translations of some of his hit songs. During her friendship with her mentor, she also had the great honor to be invited to many of his private parties and was personally asked to perform at many of these private events for such guests as, Lucha Villa, Amalia Mendoza, Mona Belle, Angela Carrazco and many others.
Angel continues to keep the legacy of her dear friend, Juan Gabriel alive in her performances, as she always includes his wonderful compositions as part of her versitile repertoire.
Latin music artist, Santiago Alberto is Angel Espinoza's son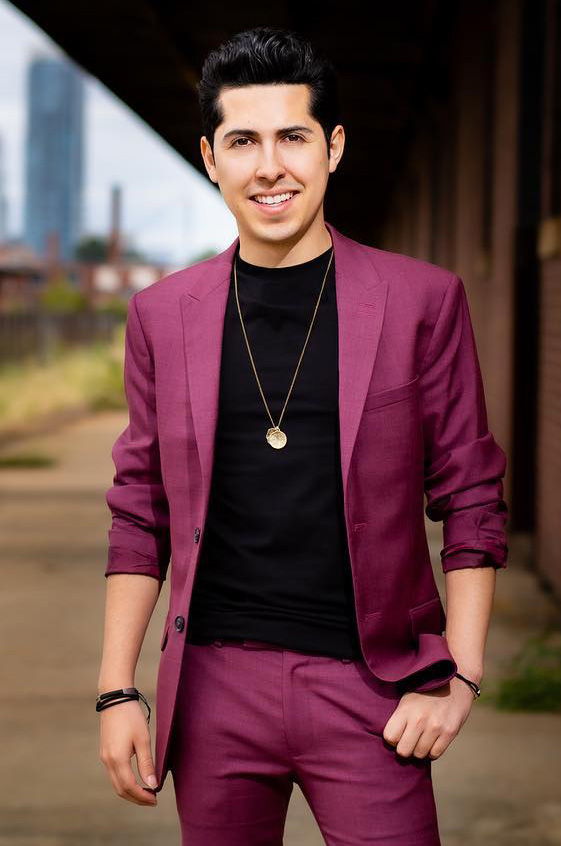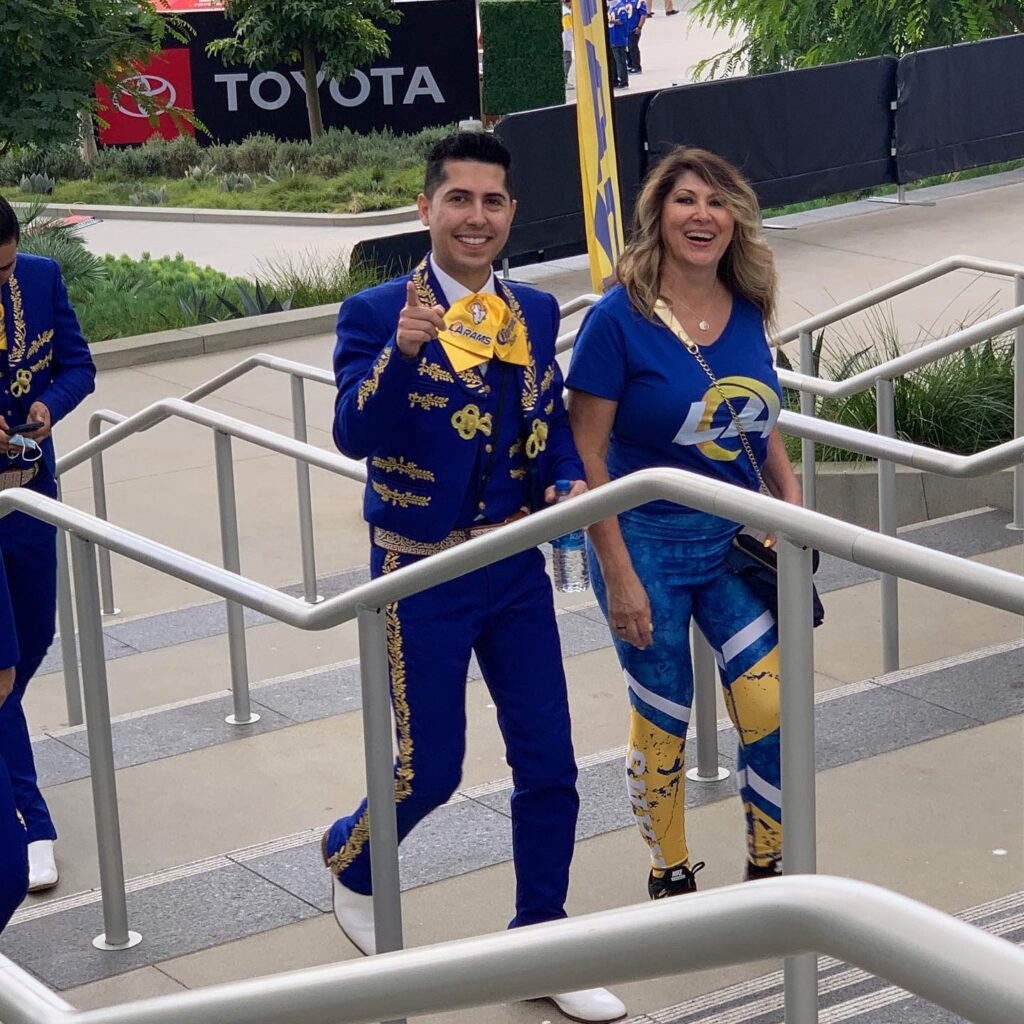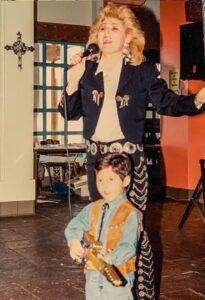 During her musical career in the 1990's, Angel raised her son, Santiago. Today, Santiago Alberto is an international Latin music artist. Angel always included young Santiago in her shows and musical performances when he was growing up. He pretty much was raised performing in front of an audience.
In 2017, Santiago arranged and produced a song for his mother as a Mother's Day gift. The song, "Fue Un Placer Conocerte" is a song she recorded as a  a duet with her friend Jerry Lopez . Espinoza & Lopez won the New Mexico Hispano Music Award for Vocal Duo and Mariachi Song of the Year in 2017 with this song.
This year, on Mother's Day 2023, Santiago gifted his mother the gift of recording a duo with her with a single, entitled, 'Mi Pueblo' released on July 6, 2023 on their hometown radio station, KDCE in Espanola, NM.